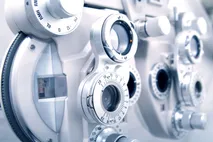 Overview of Our Eyecare Services
The Eye Clinic and Aesthetics of Provo has teamed with Cottontree Optical in offering patients great service for their eye-wear since 1988. We have a knowledgeable and friendly team dedicated to finding the best eye-care solution for you.
Eye Exams
Drs. Todd Lewis, Andrew Smith, and the Eye Clinic team take even routine eye exams very seriously. During a yearly or bi-yearly examination, our patients will receive a patient history review, a series of vision and eye tests, assessments of eye focusing and movement, retinal imaging, and an eye health evaluation. Our optometrist will discuss any additional testing that may be required to diagnose an eye disease or condition.
Glasses
Cottontree Optical was established in 1988. While we have since grown in size and technology, we've maintained the same dedication to customer care and satisfaction. We provide a large selection of brands for you to choose from. With many variations in shapes, styles, and colors, it can be hard to find the perfect frame; luckily, our opticians have a sharp eye for finding the perfect fit for you and your lifestyle. See what brands of frames we carry here:
Contact Lenses
Contacts have substantially grown in popularity and technology since the initial release of the glass contact lens in the 1800's. Fortunately, you no longer have to have glass in your eye to see without glasses. We now have technology to see using plastic or polymer lenses, both create a comfortable fit and great eyesight.
Dr. Lewis and Smith both specialize in hard-to-fit eyes including patients with keratoconus and other corneal irregularities. We carry all major manufactures of disposable contact lenses and match or even best market prices with special discounts offered only here in private practice that aren't offered online or elsewhere. Click here to see our contact lens brands:

LASIK, SMILE, ICL
Laser assisted in situ keratomileusis, commonly referred to as LASIK, is a corrective alternative to glasses or contact lenses. Like glasses or contact lenses, LASIK is a method for treating refractive conditions including nearsightedness (myopia), farsightedness (hyperopia), and astigmatism. At Eye Clinic and Aesthetics of Provo, our doctors provides pre- and post-operative exams for LASIK and other eye procedures.

SMILE (small incision lenticule extraction) is a newer corrective procedure than LASIK, offering less downtime and faster healing. It also helps minimize the common side effects that can develop from refractive surgery such as dry eye syndrome.
ICL (implantable collamer lens) is the latest procedure in corrective surgery with insertion of a tiny custom lens behind the cornea. This lens can be removed or replaced in the future and offers great clarity and vision comparable to LASIK.
Call (801) 373-4550 today to schedule a free examination with our doctors to see whether you are a candidate for these procedures.